Office of Admissions
Welcome to Islander AppCheck!
Welcome to the Texas A&M University-Corpus Christi Islander AppCheck portal. This program is an online tool that allows you to follow the progress of your admissions application and confirm the receipt of other supporting documentation needed in order to make a final admissions decision.
At this time, this program is designated to service applicants applying as prospective undergraduate students. If you do not fall into this category, or require further assistance, please contact the Office of Admissions at 361.825.2624.
To begin, please log in with your assigned Islander ID. You may find your ID enclosed on your initial notification letter that was generated by the receipt of your application. If you have forgotten your ID or misplaced your notification letter, you may recover your Islander ID by filling out the following form.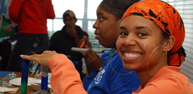 Already applied?
Get a head start on other processes you may want to complete: